Accounts or Finance Assistant
An Accounts or Finance Assistant is an integral part of the team responsible for maintaining an efficient and accurate finance function within a business.
The Accounts or Finance Assistant is responsible for assisting the team of accountants with junior accounting duties. These can vary massively depending on the team structure and size of business. An Accounts or Finance Assistant's work could include basic bookkeeping activities, working with sales and purchase ledgers, running calculations to ensure that records and payments are correct, recording of cash and data entry. Accounts or finance assistant can work in almost any sector.
Apprenticeship information
Entry requirements

A minimum of four GCSEs at Grade 4 or above, including maths and English are required OR experience working in an accounting environment.

Where will I study?

Training 2000 Blackburn

Duration

12 months - one day per week plus 3 months for your Assessment
Due to high demand, we regret to inform you that we are no longer taking applications for our Accountancy Apprenticeships as all available places have been filled. We will re-open applications in December 2023.
Structured delivery programme
that includes one day in the classroom per week at our Blackburn/ Preston site comprising of knowledge and tutorial sessions
Assessor visits and reviews in your workplace
Access to learning on e-portfolio
Xero or Sage
certified training course that you'll have the opportunity to complete as part of your Apprenticeship
What you'll learn
0
It comprises of a Level 2 Apprenticeship which will be completed in 12 months. Your assessment will take a further 3 months
You can also achieve your Level 2 AAT Certificate in Accounting*.
Level 2 Finance or Accountant units:
Introduction to bookkeeping
Principles of bookkeeping controls
Principles of costing
The Business environment Synoptic exam
General business
Aware of elements of commercial law that may have an impact when working in accountancy, such as contracts, data protection or Anti Money Laundering
Can explain the importance of upholding relevant codes of conduct
Can explain different legal entities and organisational structures
Aware of the impact of technology on business and its accounting and finance functions
Understanding your organisation
Understand own role within the context of your organisation
Understand transactional processes of accounting and their use within a finance function
Understand what makes a business or organisation successful, through either buying or selling products or supplying services to a market
Accounting systems and processes
Understand how accounting systems and processes allows a business to keep track of all types of financial transactions
Know a range of routine accounts reports, reports and their use within the finance function
Understand the basics of internal control within own organisation
Basic accounting
Aware of basic accountancy concepts and double entry bookkeeping
Understands bookkeeping controls
Understand the cost recording system within an organisation
Develop an understanding of the differences between Financial and Management Accounting
Ethical standards
Understands corporate social responsibility (CSR), ethics and sustainability within organisations
Understands the importance of the need to keep up-to-date with relevant policies, procedures, regulatory or system changes
*exam fees for commercial bookings and re-sits will be charged extra
Next steps
On completion of this course you may want to consider the following options to further your career.
Where can you progress to?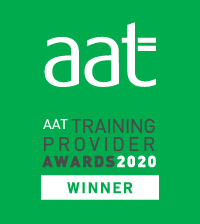 AAT training provider awards 2020
"This award is recognition of the high level of professionalism and the extraordinary efforts that our AAT team apply to ensure that our learners have a great experience and are successful in their chosen pathway"
- Chris Stott CEO
Find out more about AAT
Frequently asked questions
Association of Accounting Technicians and is a highly recognised professional accounting qualification.
The AAT qualification is equal to a Level 4. This is similar to an access course in the first year of university.
The salary ranges from £20,000 for a Level 2 apprentice up to £37,000 when you are fully qualified. Some accounting technicians open up their own accounting practices and work for themselves. The earning potential is then unlimited, the more clients you engage the more you make.
You will have a dedicated Career Development Advisor, our Functional Skills tutors and Learner Support Officers. You will also be supported by your Manager/ mentor at your workplace.
Yes, approximately every 12 weeks you will have an AAT exam.