Information, advice and guidance
Training 2000 are here to help if you have any questions about Apprenticeships or our Apprenticeship Preparation Programme.
Below you'll find some common FAQs. Every Apprenticeship is different, as is everyone's circumstances, so please get in touch with any other questions you have.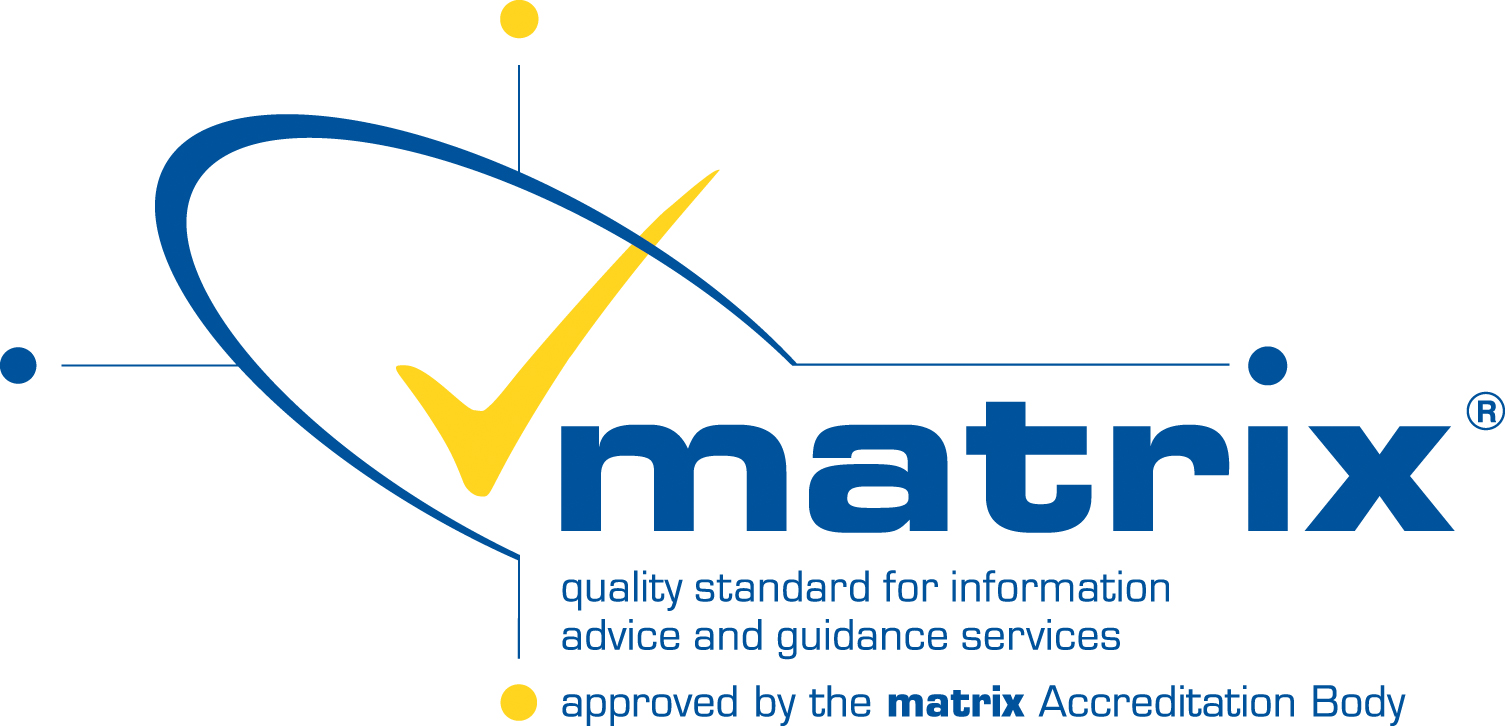 Matrix accreditation
Training 2000 is accredited to the Information, Advice and Guidance Matrix Standard, which is the national quality standard for any organisation that delivers information, advice and/or guidance on learning and work. Accreditation by Matrix confirms Training 2000 is an outstanding training provider, dedicated to giving impartial advice and guidance to its learners.
Find out more about Matrix
An Apprenticeship is a real job where you learn, gain experience and get paid. You're an employee with a contract of employment and holiday leave. By the end of an Apprenticeship, you'll have the skills and knowledge needed for your chosen career.
It can take between one and four years to complete an Apprenticeship with Training 2000 depending on which sector you choose, what level it is and your previous experience. It's funded from contributions made by the Government and your employer.
To become an apprentice, you must:
be 16 or over
not already be in full-time education
live in England
You can start an Apprenticeship whether you're starting your career, want a change or you're upskilling in your current job. You can have a previous qualification like a degree and still start an Apprenticeship.
As an apprentice you will:
learn and train for a specific job
get paid and receive holiday leave
get hands-on experience in a job
study for 6 hours per week (if you work full time) - usually at a college, university or with a training provider like Training 2000
complete assessments during and at the end of your Apprenticeship
be on a career path with lots of future potential
Training 2000 offer Apprenticeships from Level 2 to Level 5. We are also a part of the University of Central Lancashire, so you can progress to a Level 6 or 7 Degree Apprenticeship.
At the end of your Apprenticeship, you'll achieve the equivalent education level and you could be given the opportunity to progress onto the next level.
Level 2 - GCSE
Level 3 - A-Level
Level 4, 5, 6 - Foundation Degree or above
Level 6 - Degree
Level 7 - Master's degree
Our Apprenticeship Preparation Programmes are aimed at giving 16 to 18 year-olds the opportunity to develop the skills they need to find, and succeed in, employment or progress onto an Apprenticeship. You'll work on your C.V. skills, interview techniques as well a many other vital skills to help you gain an Apprenticeship. We will also help find you a work experience placement, which will be a great addition to your C.V. You may also hear them called Traineeships.
It's easy to apply, just fill out our short application form and our recruitment team will get in touch with you to discuss your options. It will be an informal chat and they will help you find the perfect Apprenticeship (or Traineeship) for you.
We will then send your C.V to all the relevant companies that are looking to employ an apprentice. Those employers will invite you for an interview and if you are successful you will start your Apprenticeship.
We advertise all of our Apprenticeship vacancies on our website, so make sure you have a look.
Full-Time learners aged 16-19 years may be entitled to claim a financial bursary of up to £50 per week and travel expenses dependant on their situation. The bursary will only be paid if 100% attendance and satisfactory behaviour is achieved.
The bursary is available under two categories – The automatic bursary and the discretionary bursary.
Automatic Entitlement
If a learner falls into any of the following categories, they will automatically be entitled to the bursary fund at £40 p/w:
A Young person in care
A Care leaver
A learner in receipt of Income Support (or the new Universal Credit benefit)
A disabled learner in receipt of both Employment Support Allowance (or the new Universal Credit benefit) and Disability Living Allowance (or the new Personal Independent Payment benefit)
Learners who are eligible within the categories listed above must complete a bursary application form (FMFP61) and attach the relevant information:
A letter from the Benefits Agency confirming benefit entitlement.
Or
Written confirmation of their 'looked after' status from the Local Authority or Leaving Care Services
A bursary of up to £40 per week will be paid for 100% attendance and satisfactory behaviour. This will be paid directly into the learner's bank account on a weekly basis.
Discretionary Fund
Those who do not qualify for the automatic entitlement may be entitled to a discretionary bursary to help with buying books and equipment etc.
Learners supported by households earning £25,000pa or less will be eligible for discretionary funding. The learner must complete a bursary application form and attach the relevant evidence for each parent / guardian in the household:
If working - Proof of income (a P60)
If receiving tax credits / working tax credits – A copy of the HM Revenue & Customs Tax credit award form
If receiving benefits such as Job seekers Allowance, Employment Support Allowance (or the new Universal Credit benefit), Income support (or the new Universal Credit benefit), Disability Living Allowance (or the new Personal Independent Payment benefit) etc. - A copy of the letter that shows the amount awarded.
PLEASE NOTE that we do not take into account any income received from child benefit or Disability Living Allowance (Personal Independent Payments) received by (or on behalf of) a dependant.
A bursary of up to £50 per week will be paid for 100% attendance and satisfactory behaviour. This will be paid directly into the learner's bank account on a weekly basis:
Scroll or swipe on small screens to see all table columns
| | | |
| --- | --- | --- |
| Automatic Entitlement | Learners 'in-house' | Learners on placement |
| £40 p/week | £30 p/week | £50 p/week |
Who is eligible to claim for transport costs?
All learners that are unemployed can claim for any travel that is needed to attend their training programme or placements; this payment is in addition to a bursary payment they may be eligible for. The learner will need to complete a Travel Claim form (FMFP60).
The learner is advised to use the method that is the most cost effective (i.e. the learner is encouraged to buy a weekly ticket instead of single tickets if this is the most cost effective etc.). Travel is always paid a week in arrears for the following:
Bus Journeys
Train Journeys
Own transport (the learner can claim mileage)
The learner will need to provide their bus / train tickets as evidence. These will need to be handed into their department at the end of each week. If a learner fails to produce the required evidence, travel will not be paid.
If a learner wishes to claim mileage they will need to provide the following original documents:
Driving Licence
Insurance
MOT (if required)
Mileage is worked out by the number of miles post code to postcode (i.e. the learners home post code to Training 2000's post code) and is worked out at 25p per mile. Before travel can be paid to a learner claiming mileage attendance records must be checked. Mileage will only be paid if attendance has been confirmed for each day. Mileage will be paid for a learner on a work placement and will be calculated in the same way.
Complaints or appeals about a Bursary Fund?
ESFA does not have a role in the administration of bursary funding; this is the responsibility of Training 2000; ESFA does not usually get involved with complaints. Any learner or parent who is unhappy with how Training 2000 has handled an application for bursary funding must be directed to our own complaints procedure (FM/GN141). Training 2000 must handle the escalation of complaints about the bursary fund in the same way as any other complaint we receive. Our own procedures must be exhausted before approaching ESFA.ESFA may get involved if there is an allegation that this guide is being seriously disregarded.
We have a team of people who are here to support you during your Apprenticeship. You may, at some time, have a problem that is either work related or personal, which you feel you cannot discuss with your Supervisor/Career Development Adviser. It often helps to talk it through with someone else, so our Apprentice Wellbeing Advisors are here for you.