Training 2000 and Chubb Forge on with Local Partnership
Local employer Chubb has become the main sponsor of the Fire and Security training rooms at Blackburn based training provider Training 2000, including a memorial dedication to apprentice Zack Sands.
Training 2000 are part of the University of Central Lancashire and work with school leavers, apprentices and higher education learners working towards the goal of educating and preparing them for the world of work that awaits them. Training 2000's focus is to support its learners to achieve the qualifications they need, alongside helping to develop their employability skills and the industry knowledge that employers are looking for.
Chubb is one of the world's leading providers of fire safety and security solutions for businesses and organisations worldwide. For over 200 years, their mission has been to make your world a safer place by protecting people and assets with essential systems, equipment and services. Chubb is a part of APi Group, a global, market-leading business services provider of safety and specialty services in over 500 locations worldwide.
Training 2000, formally known as Blackburn & District Group Training Association and Chubb, then Shorrock Developments began their partnership over 50 years ago. They were founded by Dr Stanley Shorrock in the early 1960's and have since worked together with Training 2000 to train hundreds of young people over the years.
Directors from both Shorrock's and Chubb have sat on the Training 2000 Board over the years and have as individuals, served for 15 years or more. This only cements the long standing partnership between training provider, Training 2000 and fire & security experts, Chubb.
Local employer Chubb, recently became the headline sponsor of the Fire and Security training rooms at the Blackburn based training provider. Jim McSharry, Early Careers Manager at Chubb was keen to include a room dedication to their apprentice Zack, whom the company sadly lost in June of 2020.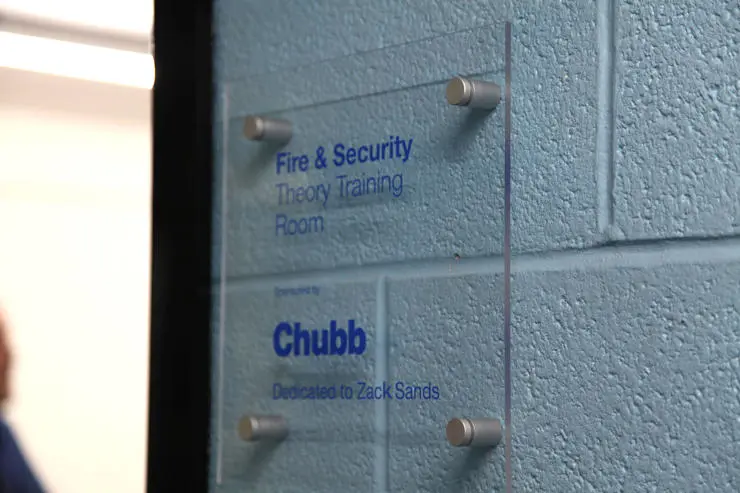 Both Training 2000 and Chubb are looking forward to strengthening and continuing their long standing relationship training and supporting the Fire and Security technicians of tomorrow. The ongoing vision is for apprentices to benefit from the investment that Training 2000 and Chubb have made in developing their partnership for many years to come.