Training 2000 achieves Princess Royal Training Award
Training 2000 have been awarded a Princess Royal Training Award 2022 for driving a shift in leadership culture.
Now in its seventh year, The Princess Royal Training Awards continue to recognise organisations truly demonstrating exceptional commitment to learning and development. With skills shortages across the UK increasing and job vacancies doubling, creating engaging learning programmes to grow and retain new and existing talent has never been more crucial.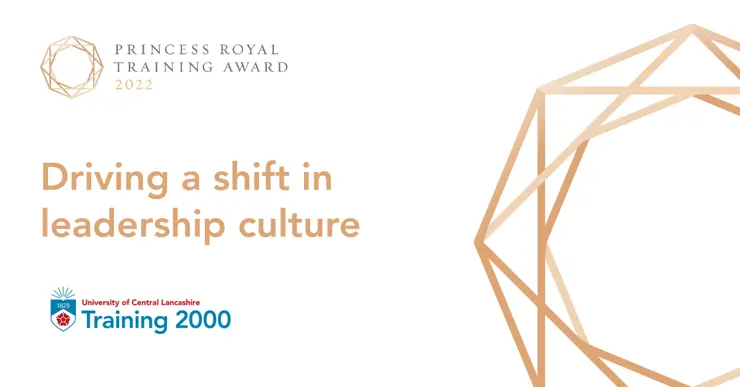 Driving a shift in leadership culture
"The Princess Royal Training Awards demonstrate how training and development can open up opportunities and attract new talent to industries with significant skills gaps and labour shortages. Yet again, this year's recipients have shown the range and depth of learning and development that is taking place in their own organisations to shape growth and positivity, from the power of skills development to address issues such as improving diversity and inclusion, through to programmes to address the ongoing impact of climate change. As we all work towards a net zero future, we hope to see even more training programmes recognised for their work in supporting this vitally important issue, amongst many other areas that create organisational and people development."

— Kirstie Donnelly MBE, Chief Executive of City & Guilds
Training 2000 wanted to build its management and leadership capability to enhance business delivery and boost retention levels. Business performance and achievement rates have improved, the strong development pathway is attracting aspiring leaders whilst retaining internal leaders, and cost savings are being made through learner projects, with one case resulting in a saving of £150,000.
As a training provider, we are constantly supporting and helping others to complete their Apprenticeships and fulfil their goals. However this award is about the training that we provide to our staff on our Level 5 Management programme. Achieving this award just proves what a fantastic programme we deliver!
"I was absolutely delighted and completely surprised to receive the email informing me that we had been successful in achieving a Princess Royal Training Award! The application process for this award was probably one of the most challenging things I have had to write whilst at Training 2000, but as soon as I saw the entry requirements I knew that it was something we had to apply for. As a manager I had already been able to see the huge impact our programme was having on members of my team and also across other areas of the business and really believed that this was something that we should showcase. Although the process was challenging at times, I could not have put the application together without the support from my team and the wider network at Training 2000. "

— Louise Hedge - Training 2000 Delivery Manager
HRH The Princess Royal, President of City & Guilds
awards employers with outstanding training and skills development programmes which have been proven to have significant positive impact on their business or their staff
More Apprenticeship programmes have been recognised in 2022
recognising their ability to address skills shortages and increase workplace diversity
The first programme dedicated to improving knowledge
on climate change and net zero has been awarded in 2022
"We are absolutely delighted to have been recognised by the Princess Royal Awards for the design and delivery of our Management Training Programme. We wanted to unlock the talent within our organisation and provide opportunities for colleagues to grow and develop with us and it is all the more satisfying to be able to do this with in an innovative in-house apprenticeship programme that we can also provide to our clients. This investment in our people has built confidence, generated clear performance benefits and better equipped staff to manage effectively and drive the business forward. "

— Chris Stott - Training 2000 CEO