Success for Training 2000 and their Automotive Apprentices
Training 2000 becomes the first IMI approved independent training provider in the country whose heavy vehicle apprentices pass their end point assessment on the new Apprenticeship standard.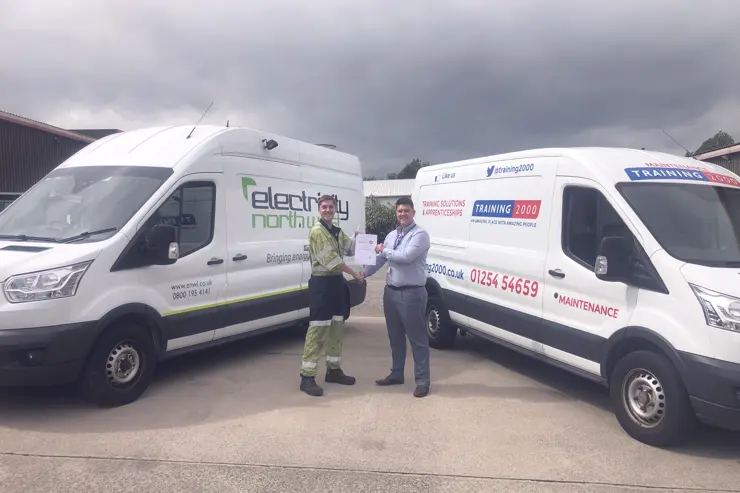 In March 2020, two weeks before the national lockdown began, Training 2000 recruited a new Heavy Vehicle Tutor to run the Apprenticeship with an existing cohort.
Ryan 23, reached out to an agency who were advertising vacancies for qualified Automotive Tutors. Although he didn't have all of the qualifications listed on the job specification, his experience, persistence and keen attitude got him an interview and he quickly became the Heavy Vehicle Tutor at Training 2000.
A heavy vehicle technician services, inspects and repairs heavy vehicles and associated trailers, with the associated ancillaries. They work in either a dealership that focusses on a particular manufacturer, or for an independent garage, franchise or large fleet operator that deals with many different makes of vehicles.
Having completed this Apprenticeship himself and gaining experience in the heavy vehicle industry working for a main dealer truck manufacturer, Ryan took this time to completely rewrite the course material in a way that he saw learners getting the best education possible.
Ryan worked hard throughout the first lockdown to understand the new Apprenticeship standard to be able to teach his apprentices to a high standard.
In July 2021, Training 2000 automotive apprentices travelled to Doncaster to sit their end point assessment.
The end point assessment on the new Heavy Vehicle Apprenticeship standard is made up of multiple parts that consists of; two online tests with an 80% pass mark, a professional discussion where the apprentice is quizzed on everything they have learned and put into practice throughout their Apprenticeship and five practical observations which include a complex diagnostic and a repair inspection.
Training 2000 recently received the incredible news that all the apprentices who took the end point assessment under the new standard passed and are the first to do so in England from an IMI approved independent training provider!
On his learners success Ryan said; "It was certainly a very difficult task given the added complications of the pandemic, but I am just so pleased the learners managed to achieve what they have and being the first independent training provider in the country to have learners pass is a real achievement!"
Corey, 24 from Electricity North West, is one of the incredible learners to be first in the country to pass the end point assessment under the Heavy Vehicle Apprenticeship standard. He said of his experience; "It was a challenging course but due to the dedication and determination from Ryan and Training 2000, I am proud to be one of the first in the country to complete and pass this Apprenticeship!"