Set your Sight on an Optical Assistant Apprentice!
Training 2000 Tutor Tony FBDO Douglass is using his experience in optics to lead on their new Optical Assistant Apprenticeship.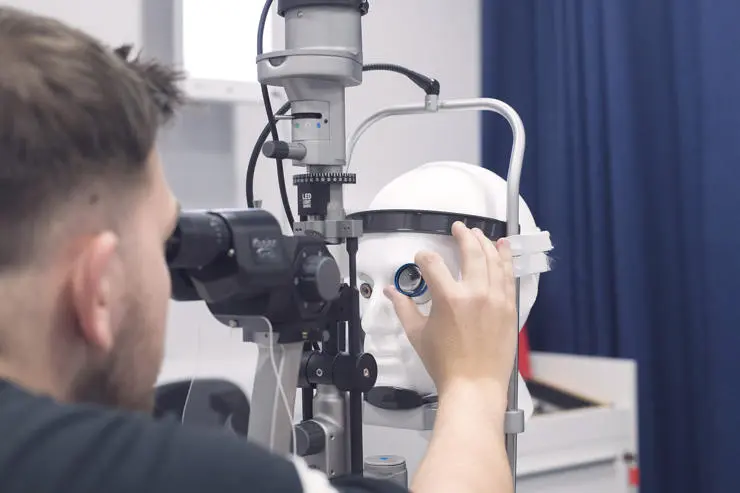 Are you eager to upskill your existing customer facing staff with an industry recognised qualification but are limited on budget? Are you interested in recruiting new employees and supporting them through an Apprenticeship?
Training 2000 can upskill your existing employees and support newly recruited staff through their Level 2 Optical Assistant Apprenticeship. This programme is delivered remotely one day per week for 12 months to accommodate your practice' busy schedule. Depending on the size of your practice, this programme could be completely free however, the most this will cost you is £250+ vat for the entire programme!
The Optical Assistant Apprenticeship will allow your employees to understand a clinically issued prescription, its effects on the eye and the customers vision. Employees will be able to identify the appropriate spectacles to meet the customer's needs and be able to explain the features and benefits of these, using non-technical customer friendly language.
The programme is delivered by an industry professional who is a qualified and GOC registered Dispensing Optician since 1999 and has worked within the sector ever since. Our Optical Tutor Tony, has extensive experience as a Training Manager as he has been in this position since 2013.
Tony was born and raised in Chorley and recently joined Training 2000 as a lead tutor for the Optical Assistant Apprenticeship which is a relatively new programme for the training provider.
Tony said of his new teaching role, "I love Dispensing Optics and I aim to pass this enthusiasm on to others, it's a really exciting time to be starting a new Optical Assistant Level 2 Apprenticeship. Level 2 Apprenticeships have been available to the multiple sector for several years but the independent sector (and those multiples not in a position to be apprenticeship providers) have not been able to access Government funding for apprenticeship training, until now".
The Optical Assistant Apprenticeship is a 12-month course which includes the end point assessment needed to successfully complete the programme.

Having an Optical Assistant Apprentice could revitalize your business. Most learning materials can be used for in-practice training to benefit not only the apprentice but your other employees too.

The training provider are part of the University of Central Lancashire (UCLan) and works with school leavers, apprentices and higher education learners with the goal of educating and preparing learners for the world of work that awaits them. Training 2000's main focus is to support its learners to achieve the qualifications they need, alongside helping to develop employability skills and knowledge that employers are looking for.

Training 2000 can offer a seamless progression pathway from this Level 2 starting point using their partnership with UCLan. This opportunity and talent pipelines offer major benefits to both employers and learners offering seamless development and progression.

Do you need help recruiting a new Optical Assistant? Training 2000 can help! They offer a free nationwide recruitment service for all new employees who will be enrolled onto an Apprenticeship with Training 2000!

Secure places for your new and existing employees today, the course is starting soon!
Call: 01254 54659