Automotive Apprentices Triumph with Training 2000
Training 2000 becomes the first IMI approved independent training provider in the country whose Vehicle Damage Paint apprentices pass their Gateway 1 on the new Apprenticeship standard.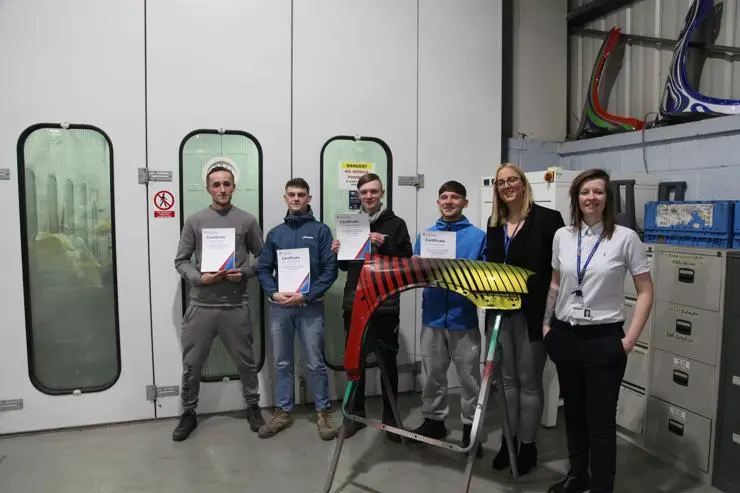 In August 2020, during the national Coronavirus lockdown, Training 2000 recruited a new Automotive Paint Tutor/Assessor to run the Apprenticeship and take it to new heights.
Automotive Paint Tutor/Assessor Linzi from Preston, has worked in body shops repairing and painting cars ranging from high end to classics to sales cars. She has done all types of repairs ranging from plastic repairs, stone chips, rectification work, dents and scratches to full resprays. Linzi worked her way up to foreman and had a number of apprentices working for her at her previous workplace.
She completed a level 3 VRQ and VCQ Apprenticeship in paint and body when she was in her late teens and actually attended Training 2000 for a while during this time. Linzi was in the workshop environment for 16 years and applied for the Automotive Paint Tutor/Assessor job as she saw it as an opportunity to pass on her knowledge and skills to others who want a career in this sector.
On what she can bring to Training 2000 and the Automotive department Linzi said, "as I am still very passionate within the refinishing trade, I want this passion and enthusiasm to catch on to the apprentices so they can be as successful as possible for the present and for their future careers."
A Vehicle Damage Paint Technician works in the vehicle body repair sector or the Automotive industry. The main duties of this role are to prepare, spray and finish vehicles that have been involved in collisions and other incidents in an efficient manner. The vehicles can be cars and light commercial vehicles and the work includes ensuring correct colour match and finish to the company and customers exacting standards. These tasks are usually carried out within a collision repair workshop or smart workshops/mobile repair micro business and working alongside another fully qualified Paint Technician.
In January 2022, Training 2000 automotive apprentices sat their gateway 1 and they recently received the incredible news that all the apprentices passed and are the first to do so in England from an IMI approved independent training provider!
On her learner's success Linzi said; "I am extremely proud of my learners for completing their gateway 1 practical assessment and exam, for them to get distinctions is a great achievement and they are a credit to me, training 2000 and their companies. All their hard work has paid off and every single one of them has a very bright future ahead."
Automotive apprentice David said, "It's very good that I have passed the first stage of my apprenticeship. I really enjoy the refinishing course... It's mint."
For more information on upskilling an existing member of staff or bringing on a new Apprentice, please contact businessdevelopment@t2000.co.uk