Corporate Social Responsibility
Corporate Social Responsibility (CSR) is used to describe how an organisation looks beyond their initial day to day business (students, staff, our customers) and acknowledge that their actions have a wider impact. Undertaking a programme of CSR based activities encourages organisations to operate in a more sustainable, charitable and ethical way.
Inspiring Learners
We have built a prestigious reputation for the delivery of Apprenticeships and other associated learning programmes and courses. Each year we train over 2000 learners across our many training programmes, helping them gain valuable qualifications, work experience and getting them on the right path to start their chosen career. In fact over 80% of our learners progressed onto a job or further training, an achievement that makes us very proud.
Our learners receive the very best support from our dedicated and specialist teams and have access to some of the best training facilities in the country.
Inspiring National and Global Businesses
Our commitment to providing first-class quality training has developed strong and long term relationships, with both national and global businesses. We work in close partnership with them as their trusted training provider, to deliver bespoke commercial training courses, services and Apprenticeship courses, across multiple industry sectors.
Our core focus is to understand our customer's needs and to develop training solutions that will reach and supersede their desired outcomes and ultimately improve operational efficiencies.
When developing training solutions, we work with our customers every step of the way and continuously measure success throughout the delivery, to ensure they see maximum return on investment.
Training 2000 Ltd Sustainability Policy Statement
Training 2000 has benchmarked and showed its commitment improving its impact on the environment since 2009 through its certification to ISO14001 and have renewed that commitment in 2018 with certification to the latest issue of the standard namely ISO14001:2015.
Our environmental policy has been reviewed and refreshed every year in line with a commitment to continual improvement, the latest version of which is held on the company SharePoint site, the company intranet and internet sites.
In addition and in order to comply with the ESF requirements we have a sustainability policy which supplements our environmental policy. This is again posted on the company SharePoint site, the company intranet and internet sites.
Our Responsibility
The corporate responsibility for this policy rests with the company directors, managers and all employees. Every decision-maker in the business will integrate health and safety, sustainability, environment and climate change considerations into strategic and day-to-day decision making processes.
Our Commitment
We are committed to protecting the environment through prevention of pollution and continual improvement of our environmental performance, maintaining full compliance with all relevant legal and other requirements demonstrated by maintenance of the benchmark standard ISO14001. We are committed to safeguarding our staff and learners with continual improvement of our Health management system, maintaining full compliance with all relevant legal and other requirements demonstrated by achieving certification of the benchmark standard ISO 45001 which was achieved in January 2021
We will promote good governance throughout the organisation, whilst actively encouraging and monitoring responsible environmental, social and economic performance by our staff, suppliers and contractors.
Our Objectives
We will regularly review our specific objectives on health, safety, environment and sustainability, annually publishing our performance against these objectives working at all times to a process of continual improvement, refreshing or updating objectives each year.
This policy, any subsequent policy reviews, and the results of our performance will be communicated to all staff, published annually on the company internet and intranet sites through the corporate social responsibility strategy document (CSR), and managed by the HSE department.
Health Safety and Environment
With our long tradition for the delivery of quality training and skills to our learners and employers, we believe that we can influence and set the example which helps them to strive for excellence in health and safety performance and implement change which tackles climate change and other environmental issues.
We believe good quality training needs outstanding Health, Safety and Environmental performance if we are to change the future needs of our world.
Substantial and continual improvement of our safety performance will be demonstrated through the achievement of certification to the benchmark standard ISO 45001, ISO14001 and maintaining this.
Key Objectives – Health and Safety in 2020-2021
To ensure all learners continue to learn in an environment where they feel safe and are safe.
To continually improve and to achieve and maintain outstanding Health, Safety & Housekeeping standards which prevent ill health or injury to staff, learners, visitors and contractors
To maintain certification of ISO45001 / to achieve a successful surveillance audit for ISO45001 in March 2022
To promote employee wellbeing throughout the company
To maintain a Zero RIDDOR accident culture
To continue to reduce minor accidents year on year
Key Objectives- Environmental Strategy 2020-2021
To achieve a successful surveillance audit for ISO14001:2015 standard in March 2022
To continue to implement improvements to reduce the company's impact on the environment
To continually review environmental innovations & investigate whether these can be incorporated in the company to further reduce Training 2000's carbon footprint
To continue to gather energy data and identify opportunities to save energy.
To ensure we work to the hierarchy of waste management
Training 2000's Commitment to Workplace Wellbeing is Demonstrated Through
A comprehensive suite of Health and Safety policies & procedures, developed from a detailed Health & Safety Policy, are in place and communicated
Strong management of absence and return to work ensures staff feel that the company cares for their welfare after time off work through illness
Senior management who encourage monthly reports from the Health and Safety and Human Resource functions on site
Commitment to run Public Health England campaigns
Provision of our employee assistance programme
Provision of occupational health support
Reducing the risk of accidents
Training 2000's will continually aim to ensure that staff are able to work in a safe environment which reduces risks that could lead to accidents. We believe that fulfilling the requirement of the Management of Health & Safety Regulations 1999 in carrying out suitable and sufficient risk assessment, and ensuring measures are put in place to control any hazards, we can reduce and maintain our accident rates at the lowest possible with the ultimate target being zero
Employees are involved in annual risk assessment review to ensure hazards are controlled and the risk of injury is minimised to a low a level as practicable.
The Directors and leadership at Training 2000 place great importance on, and are committed to, ensuring the health and safety of all employees and other persons who may be affected by the work activities of the Company
Training 2000's Health and Safety policy statement with its associated arrangements has been prepared in accordance with the Health and Safety legislative requirements of the UK
The company encourages the reporting of even the most insignificant injury. It recognises that ONLY BY INVESTIGATING accidents can we identify the 'at risk' behaviours in our work place and address these so that we can us drive towards a zero accident environment
Health, safety and environment reporting
A monthly Health Safety and Environment report is produced for all staff as part of our corporate strategy
In order to comply with our certification to ISO14001, ISO9001 and ISO45001 formal Quality, Health Safety and Environment management reviews are held annually with the senior management team
The board are informed via quarterly corporate governance report
Managers communicate health and safety monthly at team meetings
Scroll or swipe on small screens to see all table columns
| | | | | | | | |
| --- | --- | --- | --- | --- | --- | --- | --- |
| Year | 2015 | 2016 | 2017 | 2018 | 2019 | 2020 | 2021 |
| Period | | | | | | | Up to end of Aug 2021 |
| Number of Employees | 300 | 300 | 280 | 240 | 200 to May 160 after May | 150 | 150 |
| Total Hours Worked | 585000 | 585000 | 546000 | 468000 | 342000 | 292500 | 180000 |
| Total number of accidents | 93 | 41 | 27 | 55 | 46 | 14 | 12 |
| Non- reportable accidents | 93 | 41 | 26 | 54 | 46 | 14 | 12 |
| Total RIDDOR reportable accidents | 0 | 0 | 1 | 1 | 0 | 0 | 0 |
| Number of RIDDOR specified injuries | 0 | 0 | 1 | 0 | 0 | 0 | 0 |
| Number of Fatalities | 0 | 0 | 0 | 0 | 0 | 0 | 0 |
| Total accidents per 100,000 hours (AAFR) | 15.9 | 7 | 4.94 | 11.75 | 15.72 | 4.7 | 6.6 |
| RIDDOR accidents per 100,000 hours (AFR) | 0 | 0 | 0.18 | 0.21 | 0 | 0 | 0 |
Environmental responsibility
We are continuing to reduce energy usage through all buildings with the introduction of LED lighting in classrooms. Our objectives are to continue until we are fully converted to LED lighting. Being a charity we recognise that we have to manage our finances well and this cannot be done immediately. With the introduction of new boilers and heating systems over the recent years we have also reduced our energy usage significantly. All staff are continuing their efforts to reduce the company's carbon footprint. The challenge now is to maintain the improvements and continue to gather energy data and identify further opportunities. With co-operation, commitment and understanding from all our staff and learners we will continue to reduce the company's impact on the environment.
However, due to the impact of COVID 19 and site shut down for periods of time and reduced capacity, our electric and gas usage has reduced a lot more than in 2019.
Our Blackburn site will continue to deliver significant savings in gas usage. We have continued to review heating practices and taking action where necessary. Due to COVID 19, site shut down and lower capacity on site we have seen a reduction of 28% from 2020 to 2021.
Over the past few years staff have significantly reduced the use of paper from 1.6 Million sheets of A4 paper in 2015 to 475,000 sheets of A4 in 2020.
We have reduced our paper on site by 71% since 2015 to this current date. This has been achieved by the greater use of email and a reduction in the numbers of printers on site with new software which minimises repeat printing. Also, double sided printing, one file and better management of stock have all contributed to this fall. Staff are being encourage to save documents electronically instead of printing them off.
In 2020 Training 2000 started measuring our water usage and our contractor identified potential savings from 2020 to 2021.
We have saved around £20,000 in the last 12 months through installing efficiency measures. By looking at our surface water run off areas we have managed to save around £9000.
Since achieving ISO14001 in 2009 we have exceeded our original targets of reducing electricity by 5%. Year on year we continue to reduce our electricity across all sites. We have developed initiatives around lighting replacements and shutdown procedures to review out of hour's usage.
From 2020 to 2021 we have reduced our electric usage by 28%. Obviously due to COVID 19, site shut down and lower capacity on site we have used far less electric than we did in 2019.
Training 2000 are constantly trying to reduce the amount of waste produced and recycle as much of this as possible. Training 2000 employs a waste management company Suez, to manage all general waste on the Blackburn site. Suez are also accredited to ISO 14001. The company see Suez as a responsible partner, who uses the latest technology and practices to help maximise recycling or energy recovery of waste. The company regularly reviews all waste management companies employed to remove waste at all sites. This is to ensure that waste is being treated responsibly meeting the company's values and commitment to the environment.
Hazardous waste continues to be managed effectively across all sites. It is stored safely around sites in designated areas when it needs to be held on site, without incident and disposed through reputable waste management provider Neale's Waste.
To minimise the use of petrol & diesel the company transports learners, wherever possible, using its fleet of minibuses which has now been reduced from 5 to just 2. The company continues to review its company car fleet, opting for vehicles with energy efficient engines, delivering around 70 + mpg on extended trips.
Future plans to meet climate
Training 2000 will continue to address its responsibilities of not only the individual but also its obligation that businesses have to respond to calls from government to reduce the impact on the environment, reducing the company carbon footprint in order to minimise the effects of climate change
Training 2000 has achieved and maintained the Environmental Standard ISO14001 since 2009, having put in place measures to reduce use of fossil fuels by using electricity and gas more efficiently across all the Company's sites and minimising use of paper etc
In May 2018, we have successfully transitioned to the latest ISO14001 standard. Our intention is to continue accreditation beyond this date. We have also achieved certification to the standard ISO45001 in January 2021.
We use continual improvement to enable the company to target excellence in environmental performance
Training 2000 will continue to explore and identify any suitable changes we can implement which improve energy efficiency and install such change wherever practicable
We are now purchasing our electricity from Haven Power who use green energy exclusively from renewable sources
Employees and Learners
Training 2000 Limited is fully committed to the principles of equality and diversity in employment and training. We will aim to ensure that no employee or applicant for employment is treated less favourably on the grounds of colour, race, age, nationality or ethnic origin, religion, gender, sexual orientation, disability, creed, offender background or marital status or any other condition which cannot be shown to be justifiable.
We strive to create learning and work environments which support and retain the best employees, who are motivated, flexible and committed to our learners and employers. We aim to be the employer of choice in our sector and create a culture and environment to nurture innovation, growth and potential within our people.
Business Ethics
Training 2000 Ltd strives to continuously adhere to a strict code of business ethics that are based on our corporate values: customer, people, quality, investment and partnership.
All staff have a responsibility to uphold the brand reputation of the company, recognise equality and diversity when conducting business and hold close to them trust and honesty as an integral part of the Training 2000 culture.
Diversity
Our approach to diversity in the sectors in which we work is tailored to local culture and heritage. We believe that the diversity of our programmes is essential to offer the right solution to both individuals and employers alike.
We endeavour to ensure that we have the balanced mix of gender and ethnicity within our workforce and we actively encourage diversity in our recruitment process for both learners and staff.
Safeguarding Learners
The Company views Safeguarding of paramount importance and an integral part of its operation. This responsibility and commitment is articulated and explained within this Policy and its referenced associated procedures.
The Company is committed to continuously promoting a strong culture where everybody understands the importance of safeguarding and demonstrates this in everything that they do.
This policy document has been prepared in accordance with the requirements of all relevant legislation, and is issued for the direction, guidance and information of all key stakeholders who are included in the scope of this document.
Definition
Safeguarding is defined as protecting the health, safety, security and well-being of everyone who is encompassed within the scope of Training 2000's business in accordance with all relevant legislation, regulations and best practice.
You can find our safeguarding policy here
We will endeavour to safeguard learners by:
Valuing, listening to and respecting them
compliance with our legal duty in keeping children safe in education
Complying with our duties under Counter Terrorism Security Act 2015 including 'Prevent and Channel'
Involving learners in decisions which affect them
Ensuring all concerned are aware of and committed to the safeguarding policy and child protection procedures
Providing a safe environment for learners
Sharing information about concerns with relevant agencies
Recruiting staff safely, ensuring all necessary checks are made
Adopting a code of conduct for all staff
Providing effective management through induction, support and training.
Ensuring staff understand about 'whistle blowing'
Dealing appropriately with allegations/concerns about staff
Apprentice support and wellbeing advisors
Training 2000 has apprentice support and wellbeing advisors who:
Undertake learner support activities with at risk learners
Provide information, advice and guidance to learners
Liaise with operational teams in the identification of at risk learners
Keep operational teams up to date with the progress of at risk learners
Support operational teams in the collection of learner feedback
Contribute to and support the learner voice across the business
Liaise with external agencies in the support of learners as appropriate
Social Inclusion
Training 2000 Ltd has for some time supported the local community to engage in training programmes that will lead to future prospects for individuals. We believe that encouraging individuals to reach their potential and gain employment skills will raise the social skills of communities and help the local economy and demographics to continuously improve.
Case studies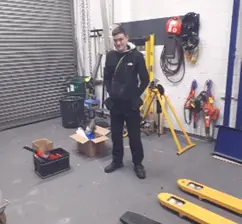 Liam
Denatec
Sector: Fitter (Engineering)
Programme Start Date: 01/09/21 (4 weeks employability initially)
Placement Start Date: 09/12/20
Offered Apprenticeship: 13/01/21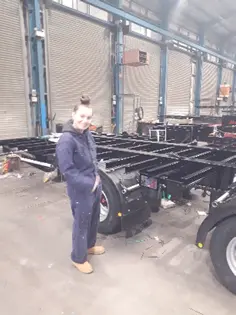 Tegan
Wheelbase Engineering
Sector: Fitter (Engineering)
Programme Start Date: 07/09/21 (4 weeks employability initially)
Placement Start Date: 16/11/20
Offered Apprenticeship: 13/01/21
Group placement day at Pennine Community Farm in August
This is a mixture of accountancy, business and dental Traineeship students who volunteered at the farm helping to plant and harvest fruit and veg for the charities users. The students had such a good time learning the importance of team work and communication!
Pennine Community Farm01

/

02
Business Continuity and Disaster Recovery
As part of Training 2000's Governance and Risk Assessment Framework, we have developed a Business Continuity and Disaster Recovery policy to set out how Training 2000 would continue to operate and provide essential services in the event of a disaster and to ensure business continuity of the company in the event of a significant disaster occurring.
Under such circumstances, a crisis team would be pulled together under the leadership of the CEO, or in his absence another member of the Senior Management Team. Experienced staff would be quickly identified to be responsible for discharging actions appropriately to deal with the crisis.
Also in place to back up the Business Continuity and Disaster Recovery are a Crisis Communications Procedure, a General Office Recovery Plan, an ICT Recovery Plan, together with security, review and testing processes.
A review of the above processes is undertaken annually.
A great place to work
As an ambitious, innovative and well established training provider, Training 2000 aims to bring out the best in its employees and learners. We employ around 150 staff across a diverse range of occupations and backgrounds, ranging from dental specialists, customer service representatives and training officers across many sectors. What brings us all together is the commitment to our learners and customers and sense of shared responsibility.